CEO's Blindness with Regard to Customer Service
You're perfectly aware of your competitors' blind spots, but can you see your own? You know that the internet industry's leaders fail to see their companies' own problems. Let's take a look at how the biggest companies are doing.
Sprint
There's Dan Hesse of Sprint. He claims, "customer service is job one. This is the number one priority of the company." So how are they doing? Reviews on DSL Reports are mixed. Reviews on epinions are universally negative. Does Hesse know the problem or do his people shield him from the truth?
In an interview, Hesse said, "the customer experience is much more than customer service. It's retail. Network quality, ease of use of phone …" So how's the network? A recent review of Sprint's portable Wi-Fi device, the MiFi, said, "the only demerits for the device are related more to Sprint Nextel than the device itself," referring to network availability and speeds.
In an ad, Hesse says he recently looked up "unlimited" in the dictionary and found that it's something his competitors don't offer. Maybe he should look up "Sprint".
AT&T
There's so much to say here that it's difficult to figure out where to start, but a company that threatened to sue one of its customers for contacting the CEO has numerous issues.
Verizon
Verizon seems to have responded in the right way to at least one extremely unhappy customer — you don't want to receive a customer complaint that says in part, "even if this was my second or third handset, I would understand. However, the representative was ready to send me my eighth replacement handset in less than a year …"
On the other hand, a couple who waited 7 months for a FiOS refund were initially referred to a debt collection agency …
Comcast
Comcast is being proactive with customer service. They have an interesting dedicated Twitter team.
But Comcast is still making mistakes.
The most notorious one was a few years ago when a woman walked into a customer service center with a hammer.
One advantage that you have over Comcast customer service: you don't have a phone tree that's impossible to understand.
There's a famous video of a customer service tech sleeping on someone's couch.
But this video, a seven and a half minute rant, describes a bureaucracy that cannot even find a home address accurately and cannot get their customer's name right. "You cannot even get my *** name right? You've got my social, my pay stubs …"
You
These are the leaders of the internet industry, and they are failing their customer service. Do you know how you're doing? In his article, 29 CEO Blind Spots- What are Yours?, Scott Maxwell of Open View Partners writes, "You may have started with a clear voice of the customer, as you were on the front lines of your organization. But as you grow, you lose a real sense of the customer because you are exposed to a limited sample and you are getting filtered information from sales, customer service, marketing, and other departments. You need a true voice of the customer if you are going to perfect your delivery into the market. The more complete, the better."
It is important to survey your customers and to interact with them yourself. You should be analyzing website traffic, and you should also be, "actually asking your customers about their experiences with your company. This doesn't have to mean complicated survey forms or big studies; in fact, those methods might actually separate you from the information that you want to gather. No, what I mean is to actually talk to your customers," writes ClickZ.com author Sean Carton (chief strategy officer at idfive in Baltimore and formerly the dean of Philadelphia University's School of Design + Media). He has plenty of good advice. In fact, if you're looking for marketing and customer survey tips, ClickZ.com is a great place to look.
Many businesses, however, feel they cannot improve customer service because they are cutting costs.
If you are cutting costs, make sure that your customers don't see the cuts. In the hospitality industry, "some restaurants cut hours or closed on some nights but did not shut down completely. Some hotels had cut back the housekeeping staff and reduced personnel in other, less obvious places like management and the back office."
Save money in the back office, perhaps by outsourcing, but keep all of your customer service staff.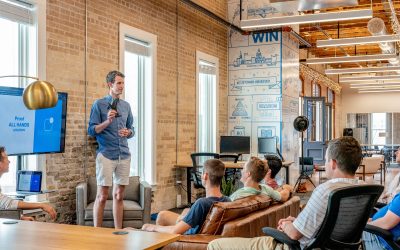 With COVID restrictions lifting, the WISP's industry event of the season is the perfect place to be. Discover the top 5 reasons you should attend WISPAmerica and join your colleagues, industry experts and icons to celebrate our industry and plot a future that's beneficial to all of us.