Adding Prospect or Subscriber
To add a new subscriber in UBO, simply click on the plus sign on the upper-right corner of the page, and then select prospect or subscriber.
Your subscriber is assigned a package and billed for services. A prospect may be quoted for service and eventually billed if they decide to pay for it. Prospects or subscribers can be deleted from the system.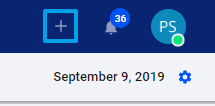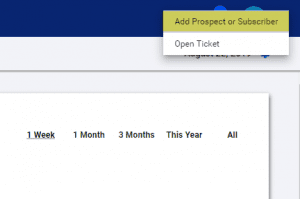 Prospect / Subscriber Information
Fill in the necessary information. Fields with a red asterisk are required.
To the right of the Email field, you may select one or multiple categories for the recipient of the message. A subscriber or prospect tagged for Billing and Marketing will receive all messages except for ones sent to the Tech category. You may add multiple addresses to a single subscriber or prospect by clicking on the small plus button to the right of the Marketing column.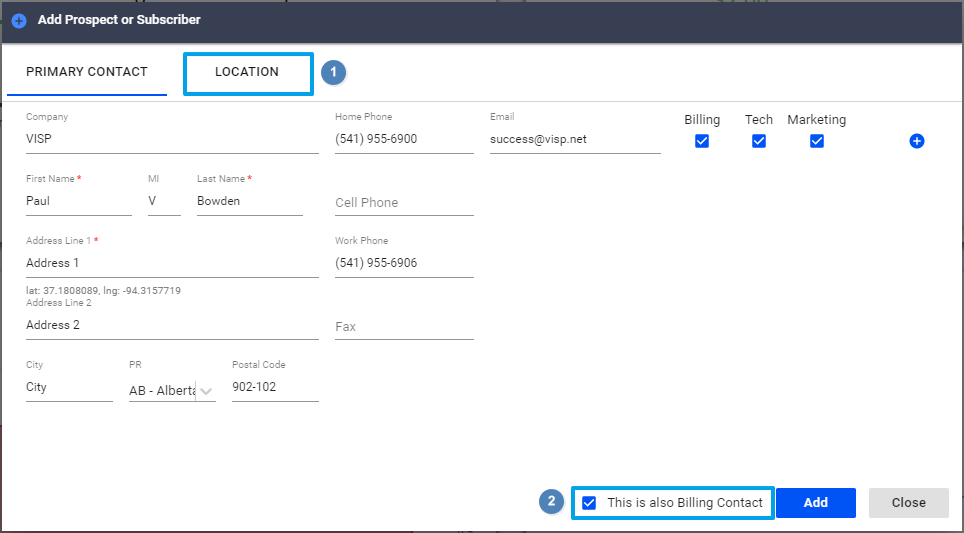 You may use the Location tab (see number 1 above) to verify the address of the prospect or subscriber. If the subscriber has the same Billing Address or Billing Contact, you may toggle the 'This is also Billing Contact' field (see number 2 above), beside the Add button in the Primary Contact tab.