Visp has teamed up with MarketBroadband to automate your marketing with what could be the most efficient, targeted, lowest-overhead WISP marketing system, ever.

The concept is simple: Automatically send inexpensive postcards to the neighbors of subscribers you've already installed, but only those that match your coverage are (not those on just the other side of the hill that can't get signal). You can even target market to only those towers that are under-utilized. This can be used with your Visp Equipment manager to ensure every tower on your network is profitable <–see this link.
With a quick call or email to MarketBroadband, you can setup an account and get your customized postcard designed.  MarketBroadband will help you create a coverage map (shape file) and give you a Customer ID to add to UBO. Pop this into Settings -> Extensions -> MarketBroadband.com (Beta) to get started.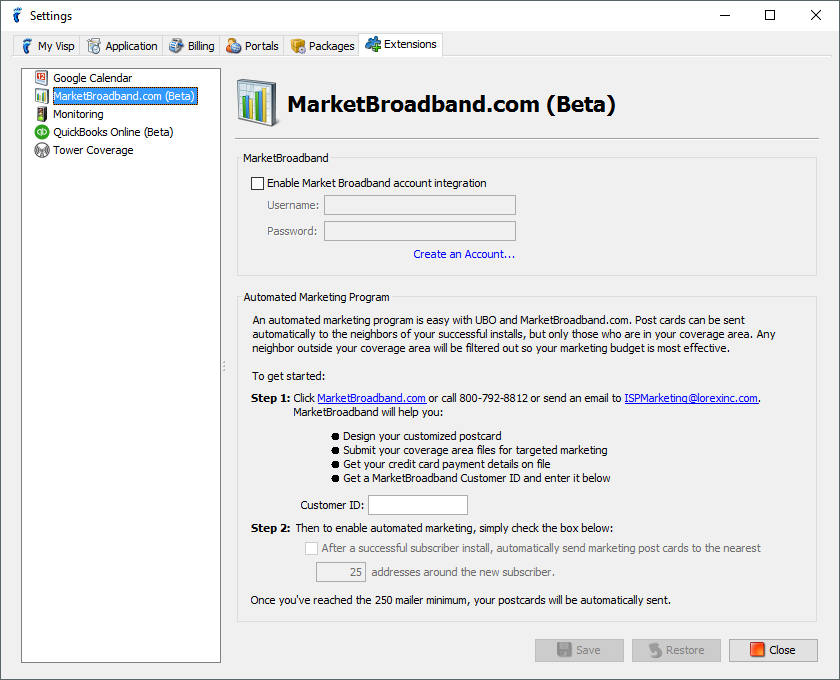 After that, each successful install will pull the addresses of the neighbors of your successful installs. No worries, because no cards or postage are wasted on neighbors that cannot get service or on your existing subscribers (or at least the ratio is very small). Just your top candidates for service.
This service is available in the US only. Contact MarketBroadband for details at 800-792-8812 or ISPMarketing@lorexinc.com.