In May Visp announced with a global ticket that live pilot testing of our powerful new HyperRadius would begin on May 25th. After thorough testing, we're pleased to announce that HyperRadius was fully deployed and authenticating all subscribers for ISPs who use Visp's authentication services.


This graph shows authentications from outside Visp's data center using HA Authentication and the difference after HyperRadius was activated. The performance improvement was 256% from this perspective. Actual results will vary slightly.
In early 2016, Visp announced its exclusive High-Availability Authentication (HA Authentication) with industry leading redundancy. In brief:
Monitored with alerts, backup alerts and authentication proofs
High capacity, load balanced, including redundant proxies
Self-restarting, self-healing servers
Redundant paths span independent data center zones
Redundancy across entirely separate cloud providers
Rapidly scalable
Direct access to our team 12 hours a day, 5 days a week and 24-hour emergency support.
HyperRadius includes all these features, plus:
Highly efficient authentications – ~250% faster!
Extraordinarily low failure/retry rate – Many authentication systems have a 1-2% auth failure rate that forces a retry. HyperRadius is self-testing and explicitly address the causes of auth failures to cut retries to less than .001%.
Significantly improved capacity under load – Resistant to RADIUS floods
Fully redundant, self-healing, auto failover databases and network architecture (see image below)
Support for Mikrotik's CoA* (Change of Authentication) – Subscriber's Session Timeout is automatically set to match their paid-thru date. No more nightly re-auths! (Requires Mikrotik setup)
Immediate updates of package speeds and immediate disconnects from UBO. (With CoA setup)
Supports location-based authentications – Subscribers can authenticate anywhere on your network, or be restricted to only one location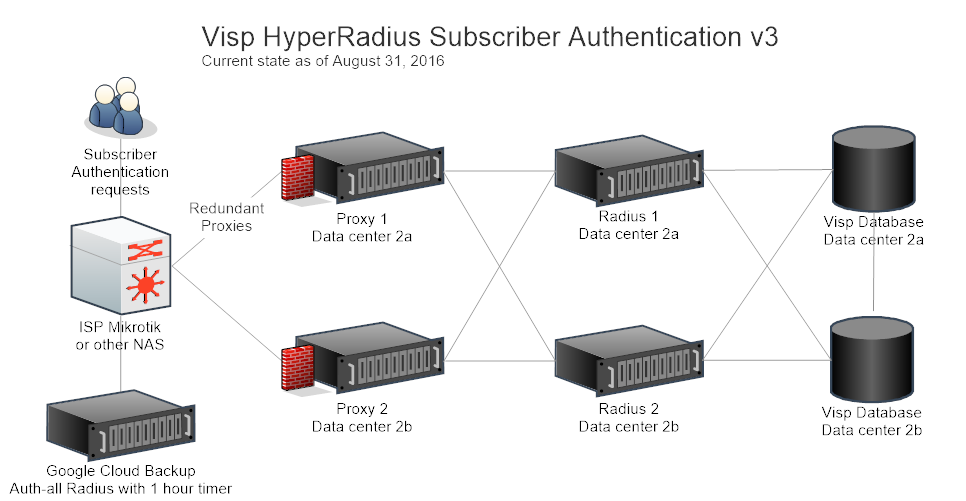 If you're already using Visp for authentication, no action is required. Enjoy!
*Mikrotik CoA: Some parts of CoA are still being tested. If you'd like to join the CoA beta, please contact the visp.net Client success team at 541-955-6900 from 6 AM to 6 PM Pacific time and we'll walk you through the setup.
Warm regards,
Todd Grannis, CEO