Opening the 'Add New Subscriber' Window
On the menu bar, go to File and then click on New Subscriber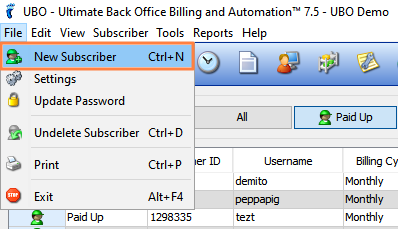 Another way to add subscribers in the software is to click on the New Subscriber icon on the toolbar.

Or you may also press Ctrl + N on your keyboard to open the Add New Subscriber window.

Adding a New Subscriber
You can navigate through the form by selecting a tab or by clicking the Previous or Next buttons.

Required fields are highlighted in 

Red

The Prequalify Button is used to check if the Subscriber's address is within the wireless coverage area. You must provide the Subscriber's address before clicking this button.You will need to populate your mapping information (Equipment and CPE's), or integrate with 3rd-party tools like TowerCoverage. 

In the Billing Options tab, you can configure the subscriber's billing, invoicing, and auto-pay schedule. You may configure the method and cycle of payment, as well as the applicable tax setting for the subscriber. If the subscriber's billing address satisfies the criteria for any of the configured tax settings, the Tax field will be automatically pre-populated with the matching tax setting as the default value — you can still change the value or exempt the subscriber from paying taxes if you wish to. For more details on the tax settings, click here.

Check the Auto-pay checkbox to allow your Subscriber to conveniently make automatic payments using his/her e-Check or credit card account.
Finally, in the Primary Account tab , the username and password you enter here will be used by your Subscriber to access the Account Manager site. Make sure to inform your Subscriber about his/her login details after adding the Subscriber.

Note that you are required to provide a strong password. Hover on the Password text field to know what the strong-password requirements are.

You may check the "Add a package.." or "Add a ticket.." checkbox to directly open the Add Package / Add Ticket window. Checking the checkboxes will save you a number of clicks.