Packages are a powerful feature that can be added to your subscribers. A package contains the selected services that your subscribers will be using or subscribing and the pricing that will be paid by your subscribers.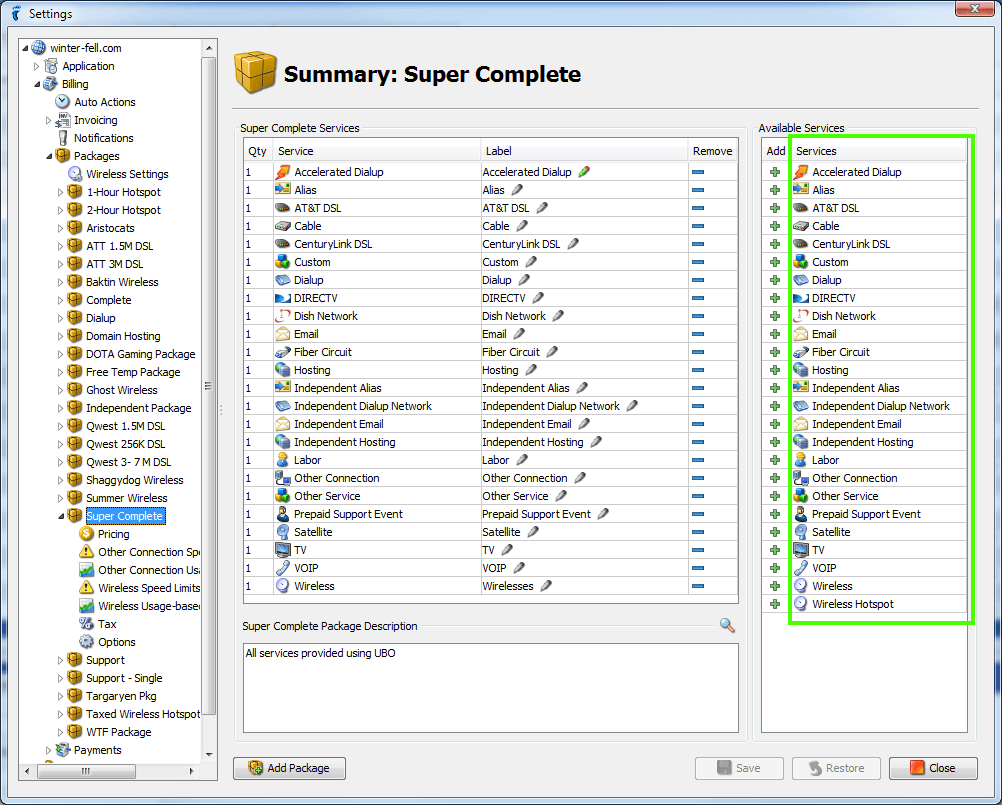 For each package, it is required that you add at least 1 service to successfully create the package in the software. You can add different combinations of services and vary the quantity for each service (except for the Wireless Hotspot service). Services are the items that you add into a package. In the software, there is a total of 26 services that you can choose from. Here are the list of services:
Accelerated Dialup

Alias

AT&T DSL

Cable

CenturyLink DSL

Custom

This service is available if you the service you are looking for is not available in the list of existing services provided in the software.

Dialup

DIRECTV

Dish Network

Email

Fiber Circuit

Hosting

Independent Services

These services are placeholders for any account information that is not linked to any of VISP services but you would like to keep a record in the software. These include Independent Alias, Independent Dialup Network, Independent Email, and Independent Hosting.

Labor

This service allows you to add a service to let your subscribers know that there is a labor service provided for the package being subscribed.

Other Connection

This service is available for Internet connections that are not wireless. It still contains the same configuration settings of a wireless connection.

Other Service

Prepaid Support Event

This is a consumable service that will be used

overtime

by your subscribers. You may use this if you want to charge

a consumable

support for your subscribers.

Satellite

TV

VOIP

Wireless

Wireless Hotspot

This service is similar to the Wireless Service but only provides temporary Internet access to the subscribers. It is billed only once and cannot be billed recurringly.
You also have the option to customize the label of the service. this label will be the text displayed to your subscribers. Additional Resources about Packages:
Updating Package Settings