There are two ways to open the software: one, by double-clicking on its desktop shortcut, and two, by going to https://visp.net/run on your internet browser. To explore the beta version, go to https://visp.net/betarun.
The Login screen will appear; just fill this out with your username and password (these should already have been given to you by visp.net).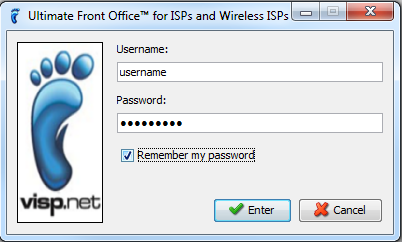 If the software senses that you are using a weak password, it will prompt you that you have 14 days from your first use before you'll have to set a stronger password.
If you are logging into the application for first time, the software will ask you to read the License Agreement and agree with its terms.

It's an important aspect of your business, but don't worry, you'll get this request only once. After you've agreed to the terms, the software will open normally.
Once it opens, you'll see the software's main screen, and from there, you can start working on your tasks.