Automation Streamline, Take Control And Grow
Ultimate Back Office Features
When trusted staff gain the experience to be savvy business strategists, why not leverage their knowledge to accelerate growth and reduce overhead? There are a limited number of hours in a workday and when you better utilize them, your staff contributes more toward your WISP's success.
Deploy a billing and automation system that streamlines your most expensive resource, "labor" and is built on proven business growth principles to lay the foundation for your future profitability and growth.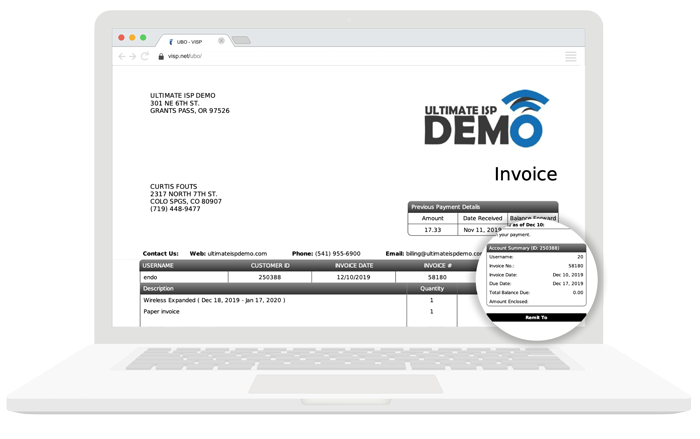 Billing
Fully Automated Invoicing
Customizable billing per subscriber:
Choose a fixed date so all accounts are due on the same date
Or, choose flexible dates for individual accounts; and Override the due date at your discretion.
Optional paper invoice fee
Set payment status flag behavior
Support for late payment grace periods
Payment reminder scheduler
Configure auto-pays by credit card or eCheck
Late fee/re-billing fee support
Prorated billing support
Filter
Subscribers By
Check out these features in the
Video Library or
Account balance status
Due, past due, suspended, paid up
Bandwidth usage
Access time
Subscribed package
Access site or tower
Access point or sector
Create your own filter
Included
Activation Servers
Check out these features in the Video Library or
Redundant RADIUS and activation servers
Non-payer redirect and captive portal/payment support
Integrated "Pay Now" page
Customizable package display pages with "Sign-Up Now" support
Wi-Fi and hotspot support for MDUs, RV parks and temporary
deployments
Customer
Self-management (csm)
Online payment portal tools let subscribers:
Make payments
Request package upgrades
Update payment and contact information
Check usage
Change password
View invoices and payment history
Service Tickets And Scheduling
Create custom ticket templates
Google Calendar integration
Assign tickets to team members
Installer schedule support
Automated ticket notification
Service ticket reports
Ticket filtering by assignee, type of service, status
Get A Wide Range Of Management Reports
Auto-actions
Billing
Inventory
FCC Form 477
Marketing
Subscribers
Service calls
Packages and services
Custom reports are available upon request.
Control staff access with user permissions. API support for anything you want to connect too.
How much
support will I get?