Remember when you first setup with Visp?  You may have seen the turnkey ISP web page that we've offered for years. And if you're like most ISPs, you probably use the account manager to allow your subscribers to manage their account. Here's a refresher: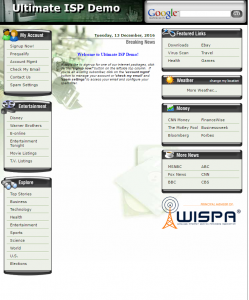 The problem with these pages is that they don't work well on mobile devices and they've started to feel somewhat dated.
The research and development team at Visp have been hard at work to create new pages for your subscribers that present well on any size screen from cell phones to big screen computers. We're pleased to announce these pages have been released. Your packages are presented right up front to make it easier for new subscribers to sign up.
If you're using the current signup server and/or account manager, you can upgrade to the new portals with just a few clicks.  To get started, go to Settings > Portals tab, then select Modern for the portals you want to upgrade. Click "Save" then click the preview button to preview the page. Much of the page, including the background images, fonts and colors can be customized. So have fun and let us know what you think and how this tool could serve you better.