We've recently updated the visp.net Online Help Desk.  It's a reasonably exhaustive guide to all the features in Ultimate Back Office 6.0 and the services visp.net provides, complete with step-by-step manuals, troubleshooting guides and useful links.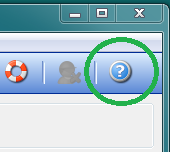 To access the Help Desk, simply click the question mark icon on the far right side of button bar.  If you have questions that are not adequately covered by online help, please let us know and we'll quickly update the files for your future reference.
Note: If you go directly to the site without using the software shortcut, you'll need to log in using your login details for the software. That's the same username and password you use to login to Ultimate Back Office.