Drive Team and WISP Success
This November 2018, we shared how to identify the best team members for your WISP to take your organization to a higher level by:
Once you've hired your team members, motivate them to strengthen the foundation of your WISP success. Here are ways to get staff to work toward your success goals.
Set Measurable Goals
Get everyone on the same page and point them in the same direction. Whether you measure success in more subscribers, lower cost, customer satisfaction or a combination of the three, tell your people what you must achieve to be successful. 
Set measurable key performance measures (KPI) to help staff reach goals. It may be a specific number of new subscribers every quarter or fewer repeat maintenance visits to encourage efficiencies that include the correct diagnosis and repair in a single visit.
There's More than One Way to Reward Staff
It's no surprise that it's not all about the money — but, money is a big factor*. When it comes to WISP employee motivation, take multiple approaches:  
Tie rewards to cost savings and revenue growth
You can't hand out money just because people want it, but you can share the wealth.  Find ways to reward smart, hard-working staff who contribute to your WISP success — did they:
Save money through efficiencies;
Increase revenue with a great idea; and
Reduce subscriber churn with concierge customer service.
Life support rewards
Work-life balance gets neglected when a business is in a growth phase. An occasional half day off as a way to celebrate reaching a goal gives hard-working staff a breather, so they return to work refreshed with the desire to increase their productivity.
Acknowledge them
All employees want to feel appreciated. Instead of providing a general, "Good job!", tell them what it is about their performance that inspired the statement. Linking the reward to a specific behavior and result to motivate them to work harder. 
The right staff with measurable goals and proper employee motivation can drive you to greater success. In December and into 2019, Visp.net will explore business strategies that you can apply to propel your WISP to the greatest heights. Stay tuned.
Thank you to Priscilla du Preez for providing the image for this article, which can be found at Unsplash.com.
*The 2016 Deloitte Millennial Survey – Winning over the next generation of leaders, posted online: https://www2.deloitte.com/content/dam/Deloitte/global/Documents/About-Deloitte/gx-millenial-survey-2016-exec-summary.pdf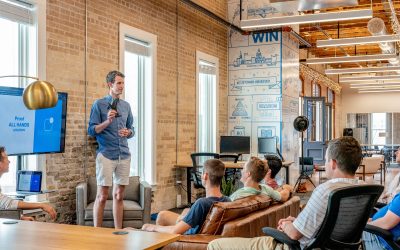 With COVID restrictions lifting, the WISP's industry event of the season is the perfect place to be. Discover the top 5 reasons you should attend WISPAmerica and join your colleagues, industry experts and icons to celebrate our industry and plot a future that's beneficial to all of us.