Create an action plan that delivers breakthrough results  
2019 was a strong year for the U.S. and the WISP industry. The growth of internet users was 1.3 million between 2017 and 2018, and; there is close to a million projected to become new internet users by the end of 2019.1
If you grew over the last year by adding subscribers, making processes leaner or by adding new services – congratulations — your hard work and vision paid off! Now, it's the start of a new year and there will be more unique growth opportunities to come.
After a celebratory glass of champagne or your favorite craft beer, it's time to upgrade your marketing action plan to make 2020 a breakthrough year.
Review past progress
Before pounding the keyboard to construct a new plan, it's good practice to evaluate the 2019 plan and strategies that got you the results. Many business associations and experts recommend, "…regularly reviewing your progress, identify how you can make the most of the market position you've established and decide where to take your business next."2
The key areas to review include results from sales and marketing campaigns, the team's performance and how close you got to your 2019 growth goals. When you've completed your sales analysis, it's time to set new goals and refocus on your vision. 
Revisit your vision
Just as it's critical to examine the steps you took in the previous year, a good compass to guide you through the next year is your corporate vision statement. "Any goals or strategies you set for 2020 should actively contribute to you achieving your vision in the long run."3  
Ask your team and yourself these questions to create or clarify your vision statement–
       

Is it effective?

       

Is it easy to understand?

       

Does it excite you and your team?

       

Does it describe why your team exists?
An effective vision statement is relatable and excites your staff so they'll get behind it. You and your team will know when you have the right one, then begin your action plan for 2020. Ask two key questions… 
1. Is your WISP visible enough to potential customers?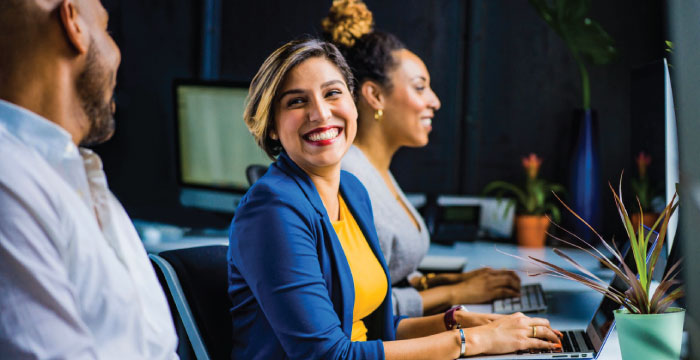 Today, an online presence is essential to most businesses and WISPs are not exceptions. 
Website: A website is your 24-7 cyber-storefront. Does your website do all it can to attract, engage and sell?
To attract visitors, optimize your site for search (SEO). Research the terms that people look for when they're considering a new internet service. Integrate those keywords into the website content. Don't know how? There are plenty of experts out there — find one. 
Other factors that determine whether your website will rank in a Google search results page (SERP) include whether the site is indexed, if it's designed to support mobile search, loads quick and has inbound links. These are all critical elements – if you're short on time like most WISP operators, engage a digital marketing expert to make your website more searchable.
Calls-to-action (CTA) capture sales — they create conversion and moves the visitors further down the sales funnel.4 
"The call-to-action is that critical tipping point between a bounce and a conversion. You can have the strongest page content and the best product or service, but if you fail to present a clear and well-designed call to action to your viewers, you will lose sales."
Google My Business: Because your service is delivered to a finite territory, future subscribers must know where your WISP is located. If you're not already registered on Google My Business (GMB), place it on your 2020 action plan. GMB is a free service that lets you manage your online presence and increases credibility – businesses that are registered are seen as twice as reputable than companies that are not.5
As part of the free service, your WISP is registered to support search; and, the business location is added to Google Maps so customers can find you faster and post reviews.
Be sure to add photos to your profile — "Businesses that add photos to their Business Profiles receive 42% more requests for directions on Google Maps, and 35% more clicks through to their websites than businesses that don't."
Content: Share content regularly through a blog, newsletter or Instagram account to extend your WISP's visibility. Engage subscribers with fun, surprising or valuable content and they may share posts with friends who could become new subscribers.
2. Is my WISP connected to the community?
Your WISP's service is an essential tool for the communities you serve and the individuals, small businesses, schools, churches, the police and fire departments in the towns. It makes sense that you, as a WISP owner, want to be their first choice for internet.   
Ads and a digital presence aren't enough Even with worldwide connectivity, face-to-face interactions still matter to consumers.6
"The need for social interaction isn't a luxury – it's a fundamental need. Empowered by modern technology and a strong sense of connectedness, customers can now have a very real impact on the brands they do business with. Companies can contribute to this sense of belonging by building a community marketing strategy that prioritizes meaningful engagement over conventional mass advertising."
Stay visible in your community by partnering with non-profit organizations or community centers. You can provide a community center with free or discounted internet services in exchange for advertising in newsletters, informational flyers or have your logo appear on signage throughout the location.
Sponsor a little league team or provide a hotspot for a fundraising event to keep your WISP visible and attend these events or volunteer whenever you can.
Next steps
To finalize your plan, prioritize your actions based on effectiveness, the time it takes to implement and the cost. Put together the calendar with key players and implementation plans.
Your success is not optional. And, the right billing system enhances your ability to leverage community involvement and offers a billing team that will support successful deployments at each event.  
As with every year, Visp.net is committed to elevating WISP Success. Have a Happy and Prosperous New Year.
[1] Statista, online: https://www.statista.com/statistics/325645/usa-number-of-internet-users/
[2] The Chamber of Commerce of Metropolitan Montreal, online: https://www.infoentrepreneurs.org/en/guides/review-your-business-performance/
[3] McKeown, D; 9 Essential Steps to Crafting Your 2020 Business Goals; Inc.; 2020, online: https://www.inc.com/dave-mckeown/9-essential-steps-to-crafting-your-2020-business-goals.html
[4] Crazy Egg, The Science of a Powerful, Clickable CTA, https://www.crazyegg.com/blog/science-of-cta/
[5] Google/Oxera, The Benefits of Complete Business Listings, Dec 2014
[6] Gertsberg, P; online: https://www.disciplemedia.com/engaging-your-community/community-marketing-strategy/, April 2019