The 3 Ways that Fuel Breakthrough Growth
You've completed the hard work — your WISP is set up and ready to go. Whether that was 10 years or 10 days ago, it's important to make growth a continuous part of your business landscape.
You might ask, "Why?" You're operating in the black and your revenue is great. It's because you never know…
No matter how you lose subscribers, whether it's a poor customer experience or pressure from competition like fiber and cable, it's a monumental pain to pull together growth strategies and implement tactics to replace those lost subscribers.
Make growth a regular part of your strategic planning. And, when you master the key growth principles, your WISP will achieve massive success.
The 3 Ways to Grow for WISPs
Business growth may sound complex, but it isn't. It's accomplished by following three straightforward principles detailed by business guru, Jay Abraham:
Get more customers
Increase the amount they pay you
Get them to buy more frequently
The third tactic of The Only 3 Way to Grow is aimed at retail businesses. Subscription-based businesses, like WISPs, can increase the lifetime value of their accounts to reduce the cost and hassle of replacing them.
The beauty of the 3 Ways to Grow for WISPs is that they are really as simple as they appear and serve as guideposts on the way to business growth.
Define Your Strategies
Each of the "Ways" requires different tactics to reach growth goals and all three should be included in your business growth plans.
Although it seems counter-intuitive, enrolling new subscribers shouldn't be your only way to grow. It may surprise you that acquiring new subscribers cost you the most in time and money and has the lowest ROI when compared to subscriber retention.
Include processes that make subscribers want to stay with you, offer more billable services while marketing to acquire new subscribers.
Before throwing up your hands and saying, "How do I figure this out?" — don't fret, Visp.net's UBO is built to leverage the 3 Ways to Grow and the WISP Success Blog is at your service.
The blog offers business-building ideas for WISPs in the form of marketing and technical tactics. Our next blog will tackle the first way to grow, which is to add new subscribers.
Can't wait? Here are past articles that present marketing and growth strategies:
Friends and Family Drive Your Success with WOMM
5 No Cost Ways to Attract New Subscribers in 2019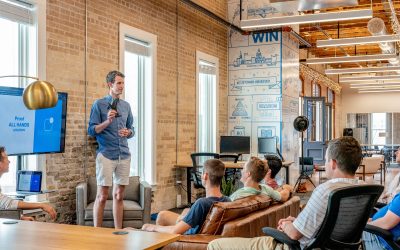 With COVID restrictions lifting, the WISP's industry event of the season is the perfect place to be. Discover the top 5 reasons you should attend WISPAmerica and join your colleagues, industry experts and icons to celebrate our industry and plot a future that's beneficial to all of us.