The Ultimate Back Office and MarketBroadband integration is set-up in the Settings window -> Extensions -> MarketBroadband.com (Beta) panel.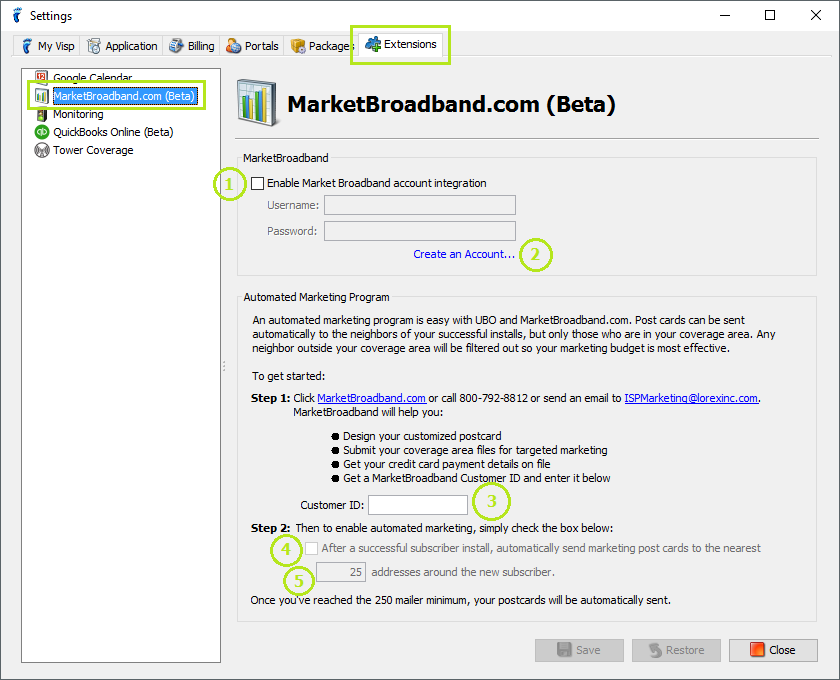 Enable Market Broadband account integration checkbox – check to enable the Username and Password fields and to start set-up for account integration.
Create an Account link – click to open the in-app browser that will open the log-in/sign-up page for MarketBroadband. You may prefer to call MarketBroadband. They'd love to hear from you!
Automated Marketing Program -> Step 1 : Customer ID – enter the Customer ID you have acquired from MarketBroadband. This will be used to associate the data they will receive from UBO with your account.
Automated Marketing Program -> Step 2 : After a successful subscriber install, automatically send marketing postcards to the nearest [  x ] addresses around the new subscriber. – check to enable automated marketing and specify how many addresses with the new subscriber's neighborhood will be sent with your customized postcards. Once this is enabled, every 5th and 20th, UBO will send the addresses of the new subscribers (who have been activated within and prior to those days) to MarketBroadband, which they will then use to determine to whom the postcards will be sent to.