To enable Oriental Bank for your ISP, go to the Settings window -> Billing tab -> Payments -> Merchant Account panel.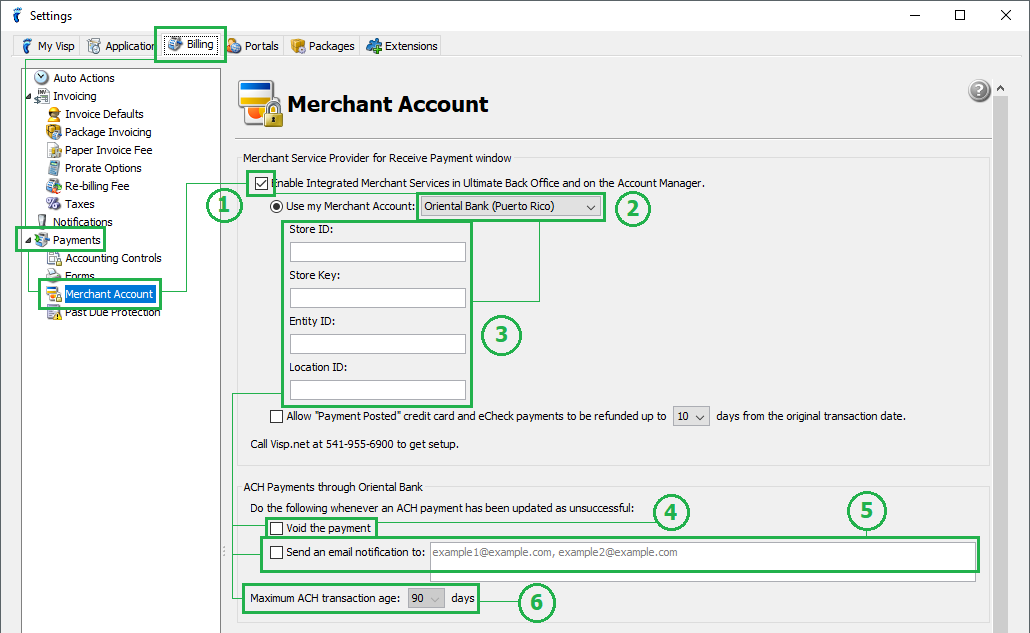 Enable Integrated Merchant Services in Ultimate Back Office and on the Account Manager checkbox — check to enable setting up your Oriental Bank merchant account.
Use my Merchant Account combobox — select Oriental Bank (Puerto Rico) from the list.
Store ID, Store Key, Entity ID, and Location ID fields — enter your Oriental Bank merchant account information into their respective fields.
Void the payment checkbox — check if you want to automatically void ACH payments when they are updated with a DECLINED status from Oriental Bank.
Send an email notification to field — enter the email address to which the email notification for DECLINED payments will be sent. You can enter multiple email addresses separated by commas.
Maximum ACH transaction age combobox — select the maximum number of days that a pending ACH payment will be included in the daily check for status update from Oriental Bank, after which the payment will be considered approved and excluded from the list of ACH payments to check updates for.