Invoicing of packages are always a major part in your business transactions to your subscribers. Because of this, Ultimate Back Office (UBO) gives you the options to change and modify on how your packages will be invoiced on different subscriber and package conditions.

Go to  ISP Settings >  Billing Tab  > Invoicing > Package Invoicing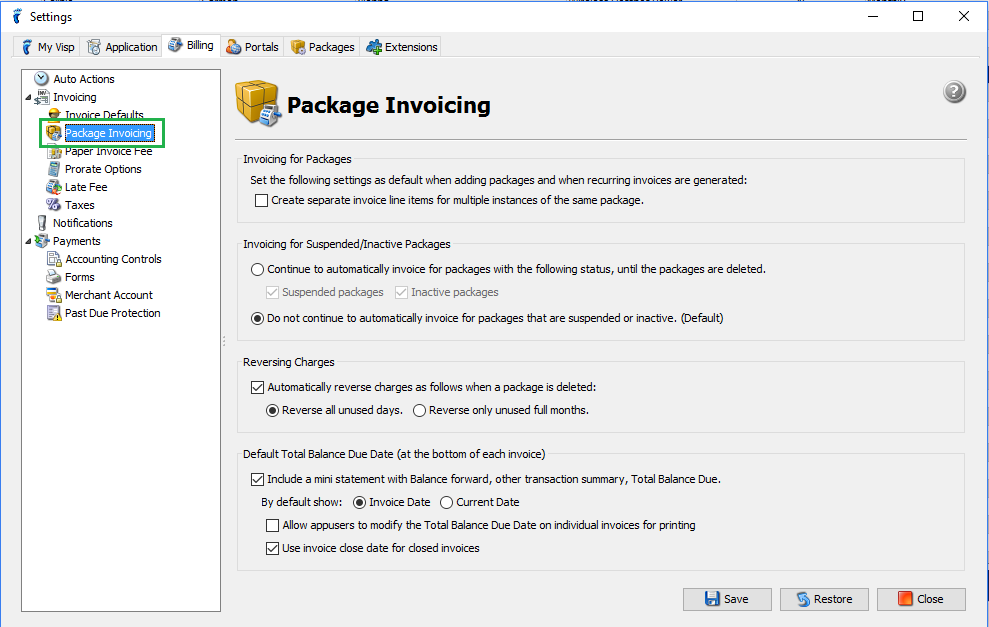 When it comes to invoicing, you can either choose to continue or stop invoicing your suspended packages. To do this, just select an option that you would like to have in the Invoicing for Suspended Packages section.
Invoicing of  Multiple Packages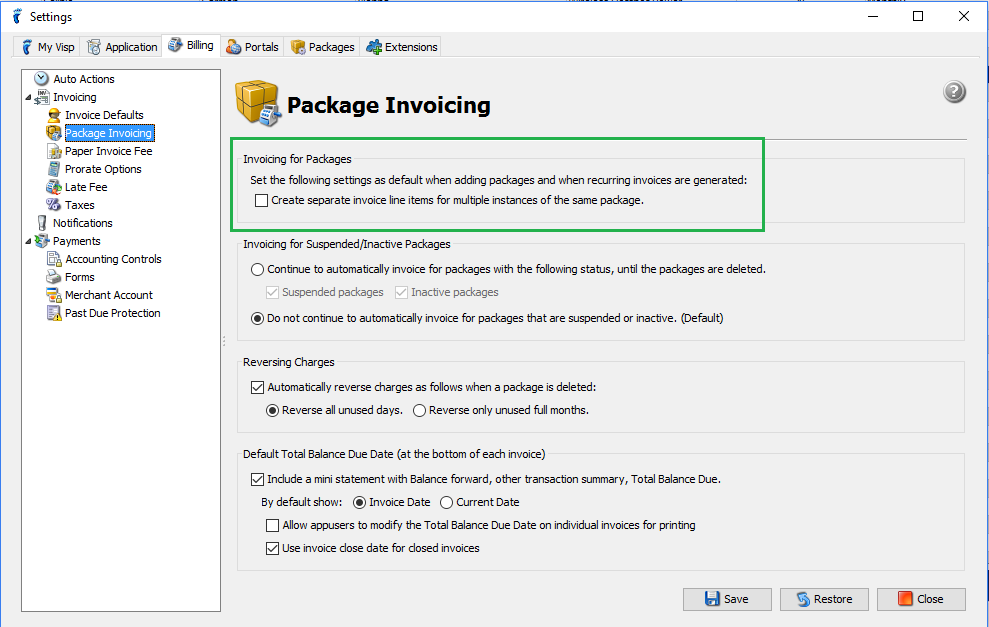 Tick the Create separate invoice line items.. checkbox if you do not want multiple instances of the same package to be merged as one item line in the subscriber's invoice.
Invoicing of Suspended and Inactive Packages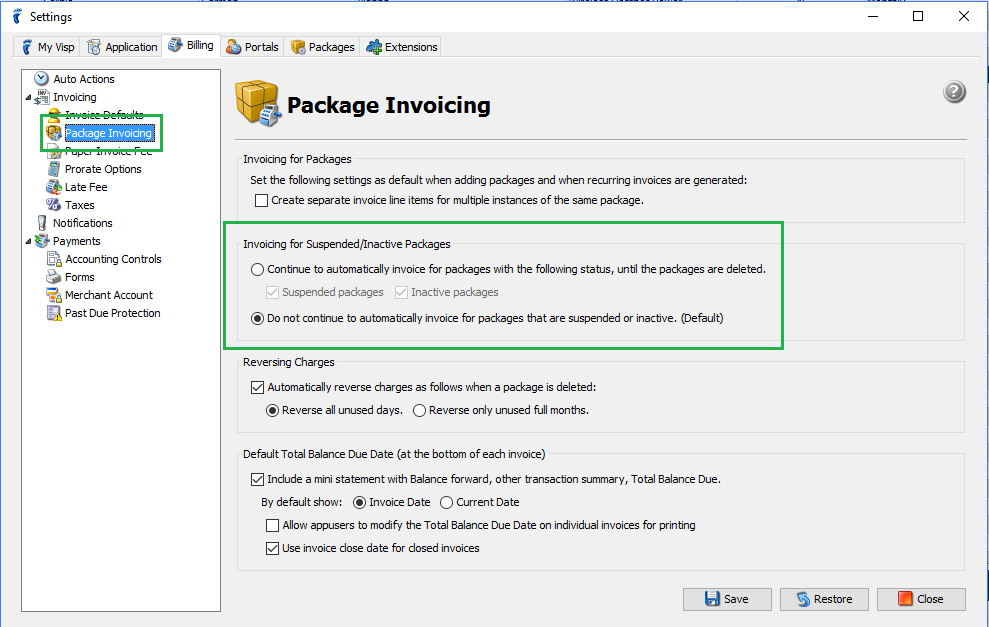 If you want to continue invoicing for suspended or inactive packages, tick the Continue to automatically invoice… checkbox.

You can actually choose to continue invoicing for Suspended packages only, Inactive packages only, or both Suspended and Inactive packages.

NOTE: Selection of Suspended or Inactive packages does not affect the invoicing of Activated packages.

When Suspended packages and Inactive packages are unchecked, Do not automatically invoice… checkbox is automatically selected.
Adding Reversal Item when Package is Deleted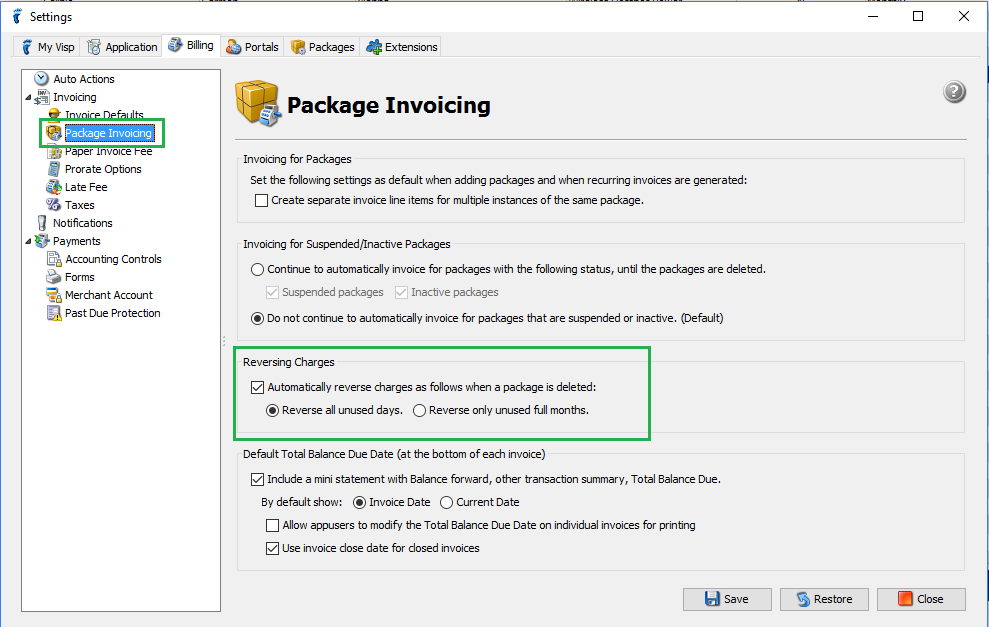 If Automatically reverse charges as follow when a package is deleted is checked, a reversal item will be added in the subscriber's invoice if his package/s is deleted.

Reverse all unused days. – credit back to the subscriber all days that were unused
Reverse only unused full months. – credit back to the subscriber all unused full months
Setting the Default Total Balance Due Date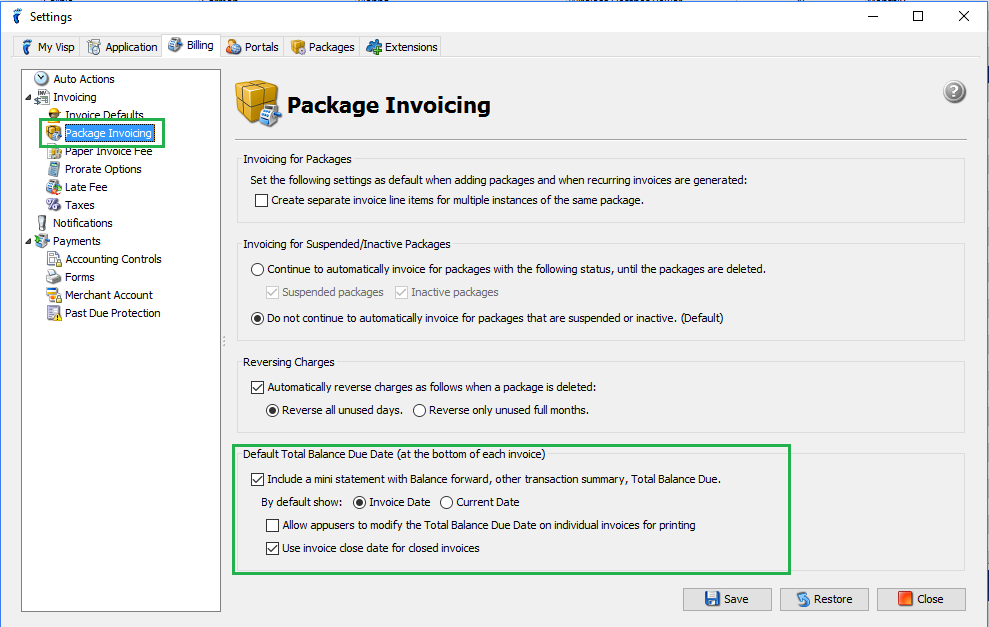 At the bottom of the invoice, total balance due date refers to the date where the total balance due for the subscriber will be based on.

Invoice Date – use the date invoice was generated as the Total Balance Due Date in the invoice
Current Date – use the date today as the Total Balance Due Date in the invoice
 Tick the Allow appusers to modify Total Balance Due Date… checkbox to allow the UBO software users of your ISP can me able to change Total Balance Invoice Due Date of individual subscriber's invoice
NOTE: Remember to click the Save button to save changes made.