This step will show you how to enable the setting for Package Hibernation.  Hibernation is only available with an internet service. The Hotspot packages cannot be hibernated.
Click

Main Menu > Billing tab > Select Packages.

You will be presented with a list of packages. Choose a package and click on the three dots icon and select

Edit.

Go to the

Options

Tab, scroll down and look for the Package Hibernation section. Click on the settings that apply to your current setup/arrangement.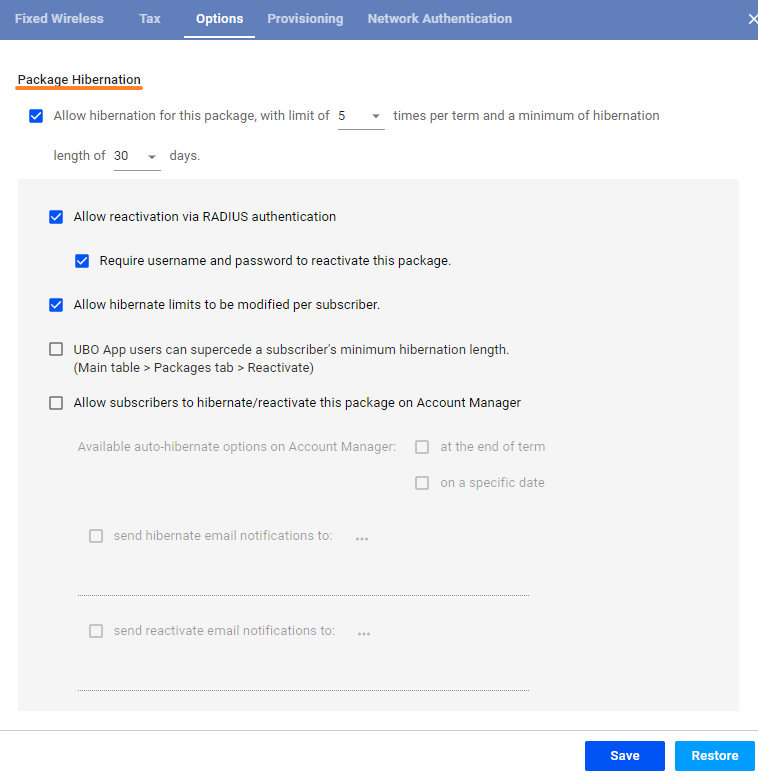 Set the number of times you want subscribers to hibernate for a given term and the minimum number of days for the hibernation.

You can allow reactivations when authentications happen via RADIUS from the subscriber's CPE or device. You can also customize the hibernation limits per subscriber. Or, allow users to self-hibernate and reactivate via the Account Manager.

You may give your Application Users permission to supersede or override a subscriber's hibernation limits and receive notifications when a hibernation or reactivation occurs.

Save.