For UBO or desktop (Java) version, refer to this link.
A grace period is the amount of time you give your subscribers so they can pay their balance due without getting suspended. For example, if payment is due on the 10th of the month and the grace period was set for 10 days, the subscriber will be considered past due on the 21st.  With this feature, subscribers can pay their bill without incurring penalty charges within the grace period provided that the balance after payment is zero or less than the amount you have set in your grace period setting.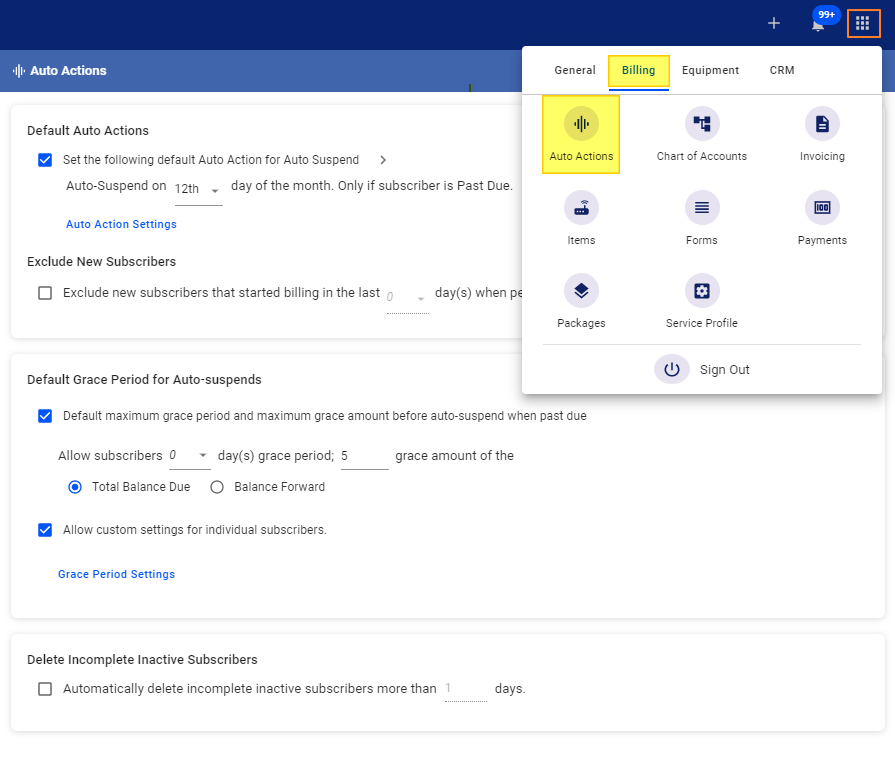 To set up the grace periods and grace amounts of an account, go to the Main Menu > Billing Tab > Auto Actions.
In the Default Grace Period for Auto-suspends, you can do the following: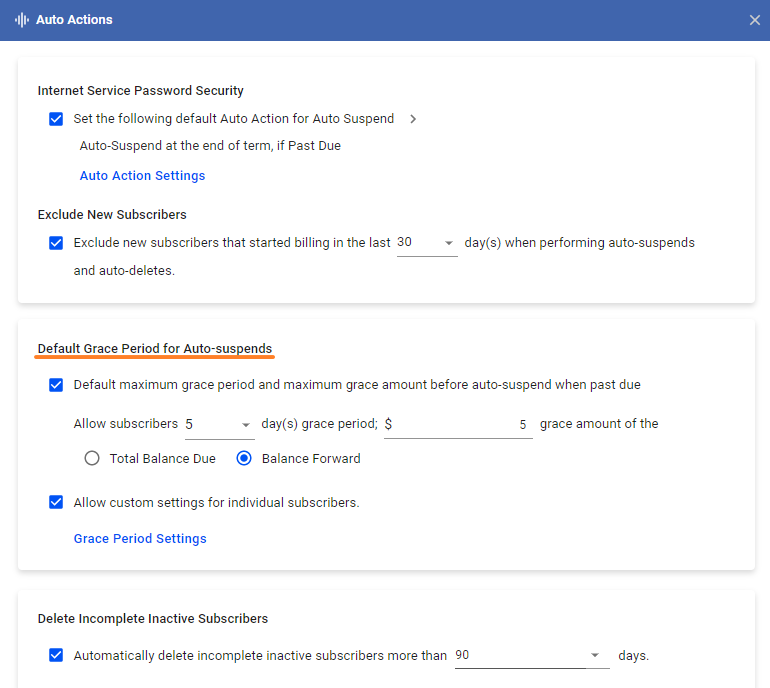 Set the Grace Period by typing a number for the specific grace period to cover. For example, an account is given 5 days as a grace period, before an account is automatically suspended.

Now set a grace amount based on the total balance that is due or for the amount that will be forwarded. For example, the total balance that is due is 5 dollars. If your grace amount is above that then the account will not be suspended. If you choose to apply the grace adjustment based on the balance forward and after the calculation of the charge plus the subsequent payment the account comes in with a balance forward of $6, then that means the account will be suspended. 

Grace amount: $5.00
Past due: $50
Payment: $44
Balance: $6 – The account is suspended

On the same page, toggle or check "Allow custom settings for individual subscribers.

"

Control the amounts and number of days for the grace period per subscriber.

Save your work when you're done.
Subscribers Account Settings
To complete the settings for the grace periods and grace amounts, go to your subscriber list. Open a subscriber's account. 

Under the Billing Options tab, toggle or put a check on the Grace Period & Amount. 

Save your work when done. If you want to customize the information, make sure you have the Allow Custom settings for individual subscribers enabled and then click on the Grace Period & Amount to set a custom value. 

Save your work when done.