To add a new filter in VISP, do the following:
Go to your Subscriber's list.
Click on the search bar, and hit New Filter.
In the first field, identify the source of the data.
In the second field, identify the operator.
Lastly, enter the value or criteria you want to filter.
You can add multiple criteria.
You may combine them using an AND or OR expression.
Once you're done editing your filter, you can either save the filter or email the subscribers that are now segmented or matched by the conditions of the filter.
Save a New Filter or Access Existing Filters
If you want to save the filter, add an easy-to-remember label to pull it up quickly.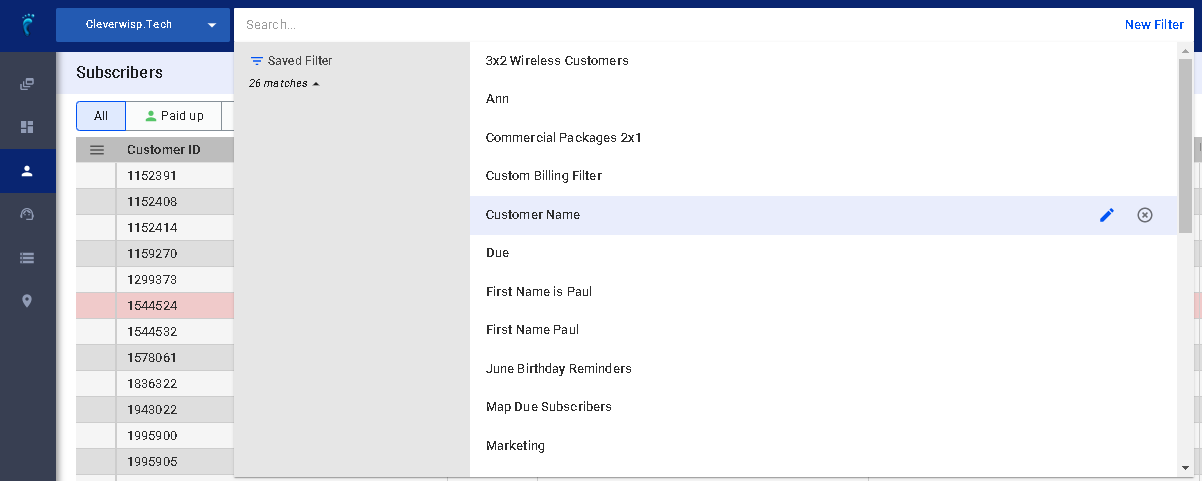 To pull up and edit or customize the conditions on a filter, go to your Subscriber's list.
Click on the Search bar.
To the left of the pop-up panel, you will see how many matches are found for a report.
Click on the dropdown.
Select the filter from the list and click on the pencil icon to edit or the x-button to remove the filter.
Save your changes when you're done.
If you want to skip certain subscribers when you send an email, especially when using a filter, click on the check mark beside the eye icon. If greyed out, the subscriber will not receive the email.

For more information about this and all other features in VISP, contact your VISP Client Success team via email at success@visp.net or phone at 541-955-6900.