Back
Equipment Accounting Controls
Manage and control how your equipment is being handled by the software with accounting controls.
To enable this feature, go to the Main Menu > Equipment > Equipment Accounting Controls and check the "Enable Equipment Management Features" checkbox. This will activate the Equipment Manager, subscriber Equipment Tab, Mapping feature in VISP.

The following are the settings that you can modify: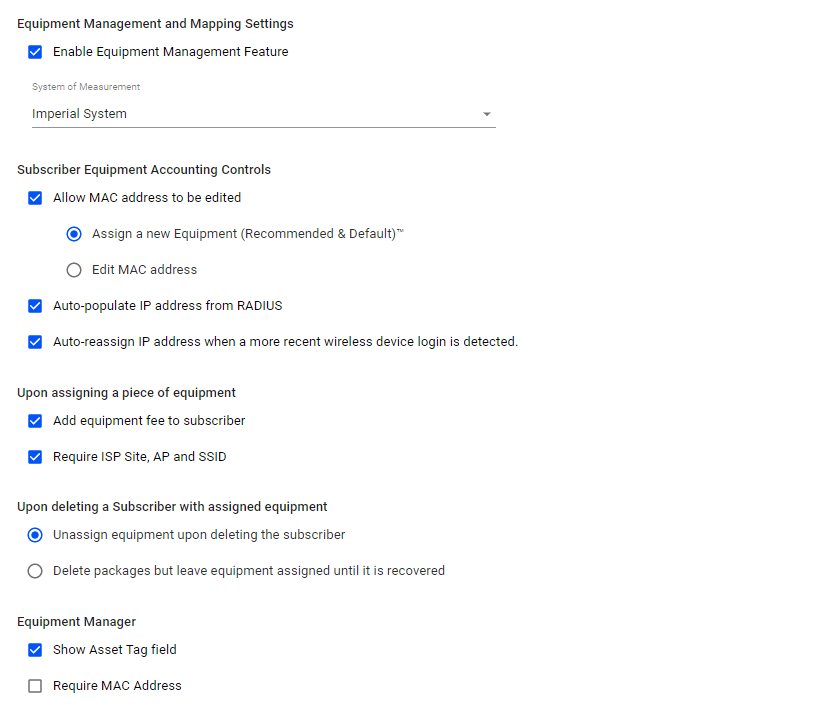 System Measurement
This will allow you to select which system of measurement will be used in VISP.
Subscriber Equipment Accounting Controls
Allow MAC addresses to be edited

If this option is unchecked, you will not be able to edit the equipment MAC address of your subscriber in the Equipment tab.

If this option is checked, you will be able to edit the MAC address of your subscriber's assigned equipment in the Equipment tab.

You can also select the default option to be chosen when the assigned equipment MAC address is clicked:

Assign new equipment

This option will automatically un-assign the subscriber equipment you are trying to edit and will display the Equipment Manager so that you can assign another piece of equipment.

We recommend choosing the Assign New Equipment option to make sure that editing the MAC address is not accidental.
Auto-populate IP address from RADIUS.

If this option is checked, the IP address of your assigned equipment will automatically be populated every 10 PM PST, based on the equipment MAC address entered for the equipment.
Upon assigning a piece of equipment
Add Equipment Fee to subscribers.
Require ISP Site, AP, and SSID.

When your technician has set up equipment to your subscriber's location, you may choose to require that they also show the CPE's relationship to your network SSID, AP and Site.

NOTE

: When this option is enabled, you must assign equipment before activating new internet service.
Upon Deleting a Subscriber with Assigned Equipment
You will be able to select the default option on how your subscribers' assigned ISP-owned equipment is handled when the subscriber is deleted.
Unassign equipment upon deleting a subscriber.

Selecting this option will automatically unassign all ISP-owned equipment currently assigned to the subscriber who is being deleted. The subscriber and his/her subscribed packages will all be deleted.

Delete packages but leave equipment assigned until it is recovered.

This option will not unassign the ISP-owned equipment but will delete all the subscribed packages of the subscriber being deleted.

NOTE

: Subscriber will show the INACTIVE status if ISP-owned equipment is still assigned to the subscriber being deleted.
Equipment Manager
Show Asset Tag field.
Require MAC address.
Equipment Types
In this portion, you can categorize the equipment types that are specified on the equipment profile. You can drag the types of equipment to any of  the categories.