You can use the National Automated Clearing House Association (NACHA) as an alternative option for processing subscriber e-check payments via your bank.
Activating the NACHA Payment Method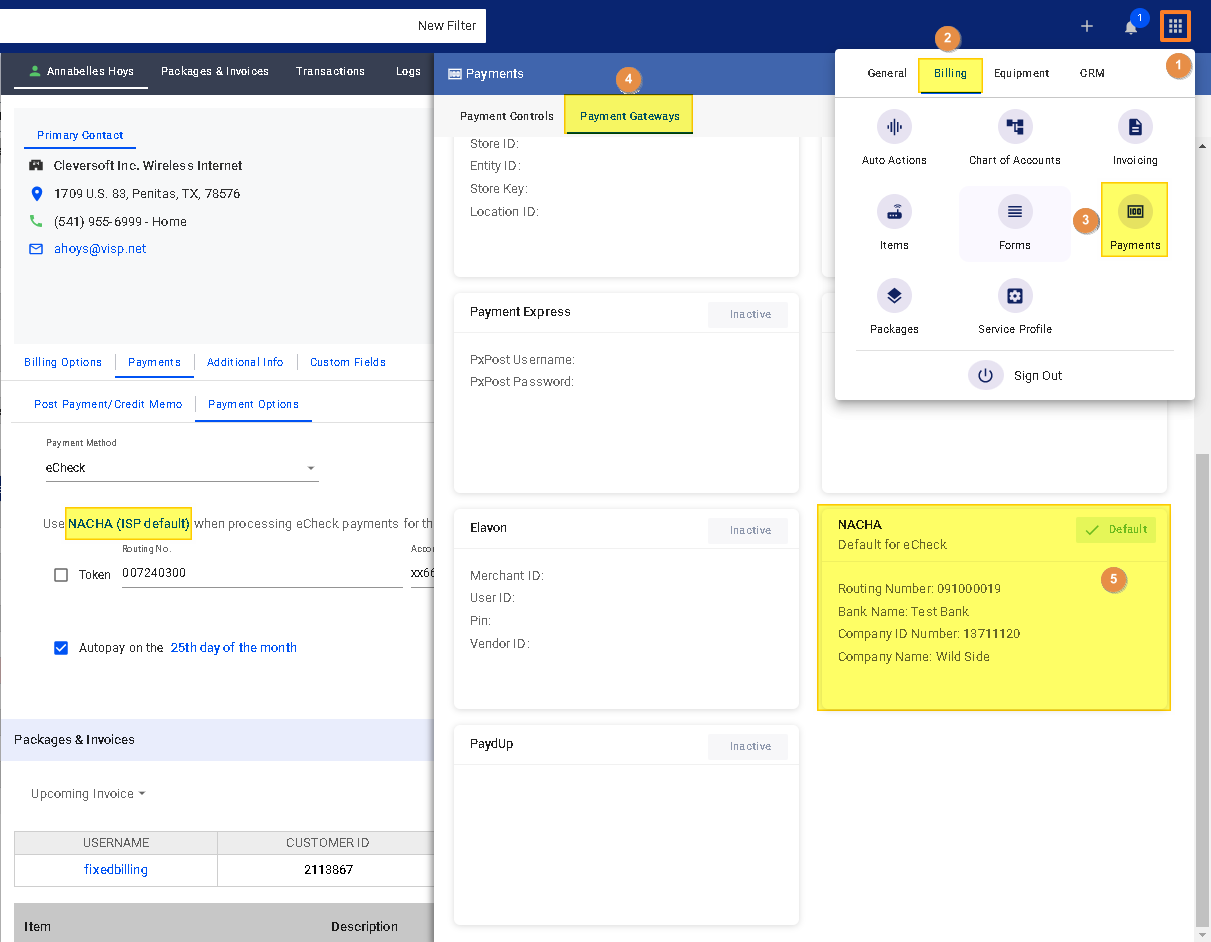 To use this method, you must activate NACHA by
Going to the Menu
Clicking on the Billing category
Select Payments
Next, select the Payment Gateways tab
Click on the NACHA payment method.
Provide the following information:
Routing Number
Company ID Number
Company Name
Bank Name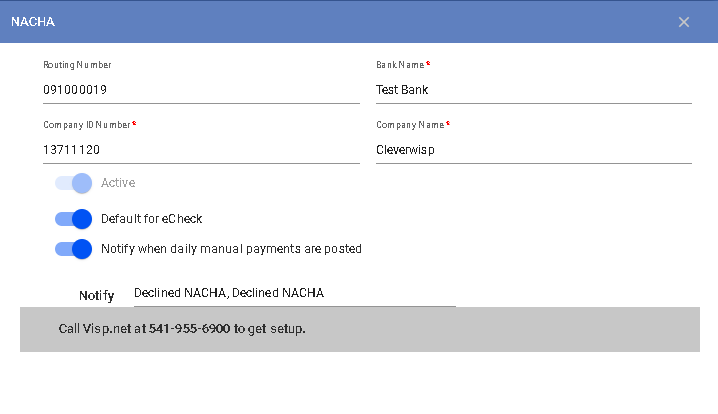 Toggle "Active" if you want to use NACHA for payment processing.
Toggle the Default for eCheck option if you want NACHA to be a selection in the Payment Options panel.
Toggle "Notify when daily manual payments are posted" and click on the Notify field below to add a name and email for the person you want to get notifications about manual eCheck payments via the system.
After you update the configuration for NACHA, go back to your subscriber's profile. Go to Payments and Payment Options.
Select eCheck from the list of Payment Methods for the customer.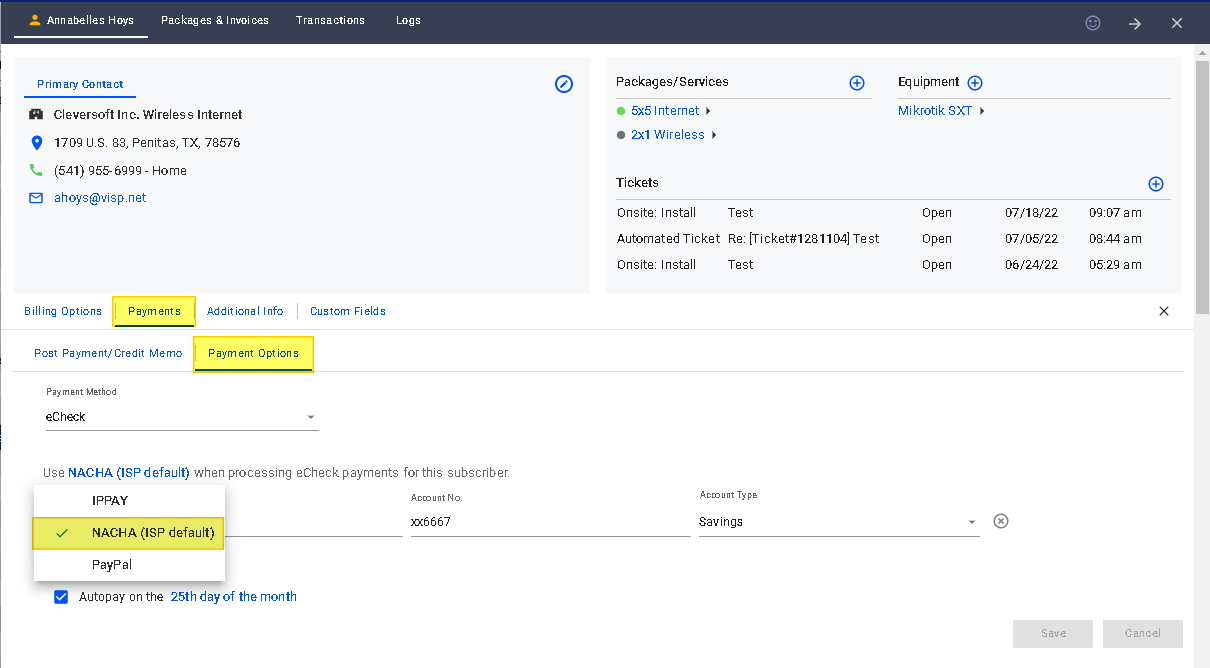 Next, you will find a blue highlighted text, Use Merchant (ISP Default) when processing eCheck payments for this subscriber.
Click and select the link, and choose NACHA. You can set NACHA as the default method for processing eCheck payments.
Fill out the following fields
Routing Number
Account Number
Account Type
After filling out the information, save the changes.
Now, after you process a one-time or automated payment for a customer, the eCheck subscribers via NACHA (Date Bound) report found in Reports > Billing should populate with the customers' profile, account information, and payment amount.
Once you have completed the steps, all that is left is to generate the NACHA report which you give to your bank for collecting payments from your customers' echeck accounts
Generating the NACHA report
Go to the Menu > Reports > Billing > eCheck subscribers via NACHA (Date Bound)
Set the date or date range of the customer payments you want to collect. Next, reload the report to update the data.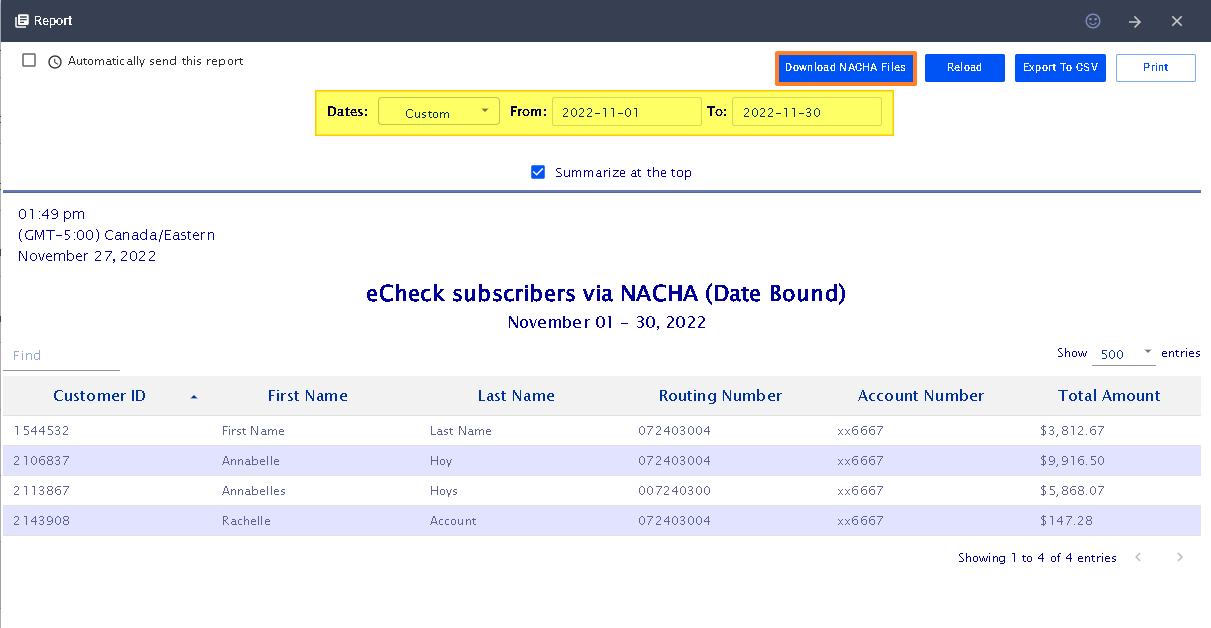 You will see your list of customers with NACHA as their payment method, for their echeck accounts. Click on the Generate NACHA Files button beside Reload, on the upper-right side of the screen. This will generate a file that you can send to the bank for processing the echeck payments.
When you receive feedback from the bank on the successful and failed collections, you can update the subscriber accounts accordingly.
If the processing has failed for a certain account, you can add an invoice to offset the failed processing to get the customer's account back to its original balance.
For more information about this and all other features in VISP, reach out to your VISP Client Success Team today!