To upgrade packages using the Change option
Go to your customer's profile.
Go to the package and services section, and then click on an existing package.
Next, click on the Change button
Click on Choose a Package
Select a package from the list.
Click on the Choose Package button
Take note that the current package must have the same services as the new package you want to upgrade to.
Billing Adjustments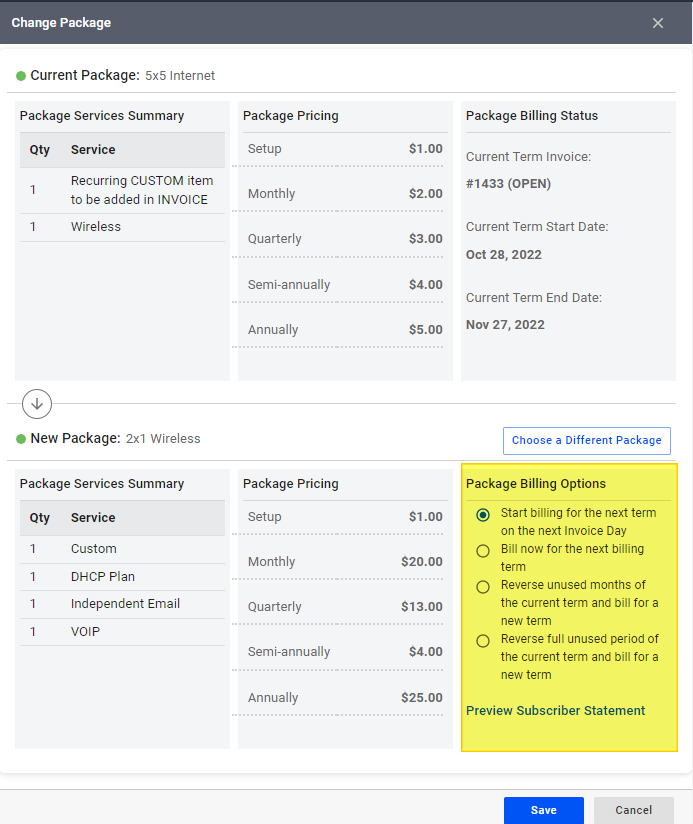 Select from the four options how you want the upgrade to impact your customer's billing
If you select Option #1, the new rates for the upgraded package will apply on the next scheduled invoicing of the customer. You can do a quick check by clicking the Billing Options tab on the customer's profile, to know when the next invoice will go out.
If you select Option #2, the customer's account will be charged a pro-rated amount. In some cases, a pro rate plus a full-term invoice for the next month may be added in the customer's profile immediately after the package upgrade.
Option #3 adds a credit for the unused months of the previous package. This works if your customer is on a long-term non-monthly cycle, like a quarterly, semi-annual, or annual package plan.
Option #4 adds a credit for the unused days of the previous package, at the same time a new invoice is added to the customer's account showing a pro-rated amount for the package upgrade. A charge for the next billing term or month may be included in the same invoice.
Click on the Preview Subscriber Statement to see what the upcoming invoice or credit memo will contain before you go with a specific option.
Save your work when done.
If an Invoice Now option is displayed, be sure to review the invoice or term start dates, before Invoicing the customer, to make sure your billing is in line with your intended schedule.
For more information about this and all other features in VISP, reach out to your VISP Client Success team today.