For UBO or desktop (Java) version, refer to this link.
Creating templates for common types of service calls can streamline the time it takes to create and resolve tickets for your subscribers.

Here's how to add a new Ticket Type:
Go to Main Menu > CRM > Ticket Types.
Click the "Add New Template" button.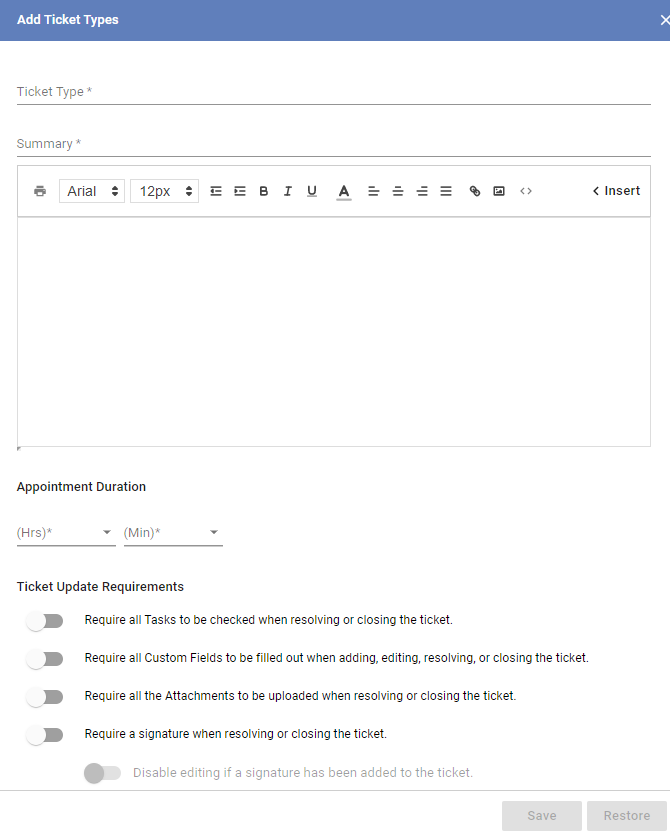 Add the label or title of the ticket.
Enter a summary for the ticket template.
Enter notes, a brief description or instructions.The body of the ticket template may contain notes, instructions or fields which your installers, technicians or even subscribers can fill out.
Use the insert button to insert codes or fields that can be  added to the template. The merge codes are auto-populated with subscriber information.

Set a time limit for the ticket or service. For the technicians or installers, you can limit the number of hours or minutes they spend completing the ticket's service.
Ticket Update Requirements. Set the conditions before a ticket can be updated, closed or resolved.
Add automatic followers to the ticket. Managers or subscribers can be tagged here so they're automatically included as the followers of the ticket.
Click save to add the new ticket template.