To generate your FCC 477 Subscription and Deployment Reports in VISP, go to your Reports > FCC 477. Select the report(s) you want to generate.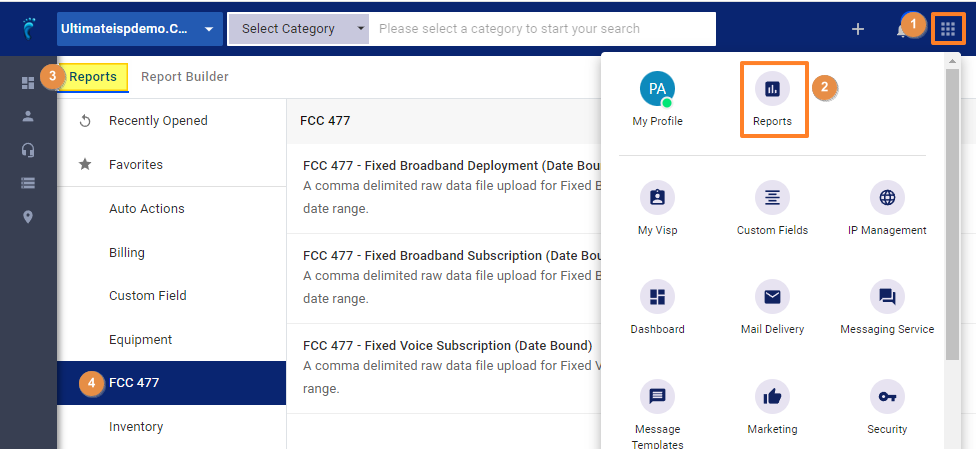 Note: In order to generate your FCC Broadband Deployment Report, your site or tower information must be added in VISP, including data like the tower height. 
Common Errors When Generating Your FCC 477 Subscription and Deployment Reports
Invalid Package or Service Speeds
Reason: Your packages or services have no speed limits. To add or update the download, upload, or burst speed limits of the packages or services in VISP, please refer to this screencast – http://somup.com/crjO2DrjW4
Note: The screencast shows the latest web application from Visp. If you want to edit your speed limits in the desktop or Java version of UBO, please go to Settings (gear icon), then click on the Packages tab. Expand the package you want to edit and click on the Speed Limits section. Save your work when done.
Invalid Inputs
Reason: Your subscribers' addresses require validation.
To validate an address you must re-enter the customer's address in the Address Line 1 field of the subscriber's primary contact information. Open a subscriber's account and then click on the pencil icon beside the Primary Contact card to open this slide or window. The system will auto-suggest valid locations as you type an address. Select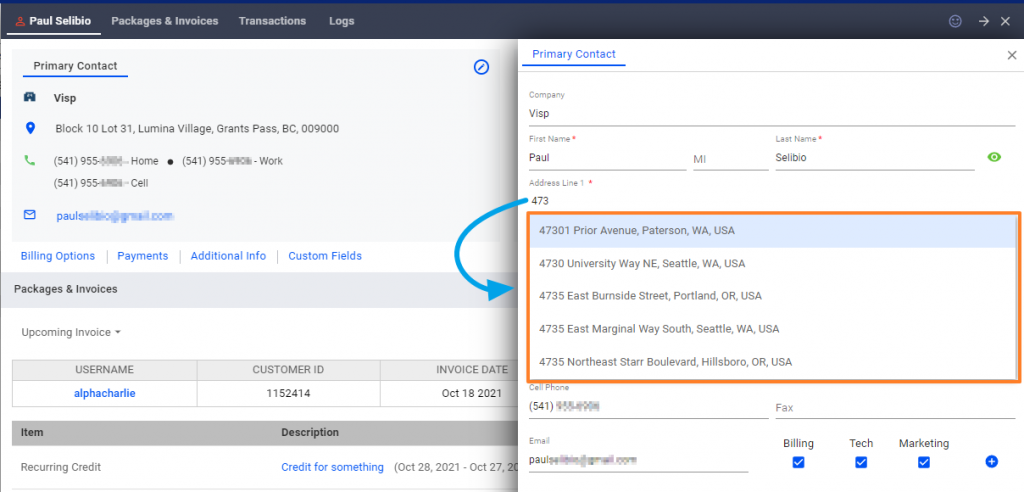 You may use Bing or Google Maps to capture validated addresses (see video) or use the latitude or longitude coordinates (see video) in the Address Line 1 field.
Or if you continue to have issues, simply provide the latitude and longitude for all subscriber addresses that are showing an invalid input during report generation, and send the information over to your VISP Client Success team, for import.
No Sites / Towers or Equipment Data (Deployment Report)
The deployment report requires Sites or Towers as well as their height to be added in the Equipment Management feature in VISP. You may send your site/tower, AP's, and equipment data for import in VISP.
Please coordinate with your VISP Client Success team via email: success@visp.net for assistance.
You may also manually enter your sites/towers, AP's and subscriber CPE's in VISP. Refer to the videos here:
If you experience any of these errors when generating your VISP FCC 477 Broadband Subscription or Deployment report, please report the matter to your VISP Client Success team so it can be fixed ASAP. It may take 24 to 72 hours for changes or updates to appear in your FCC 477 reports.