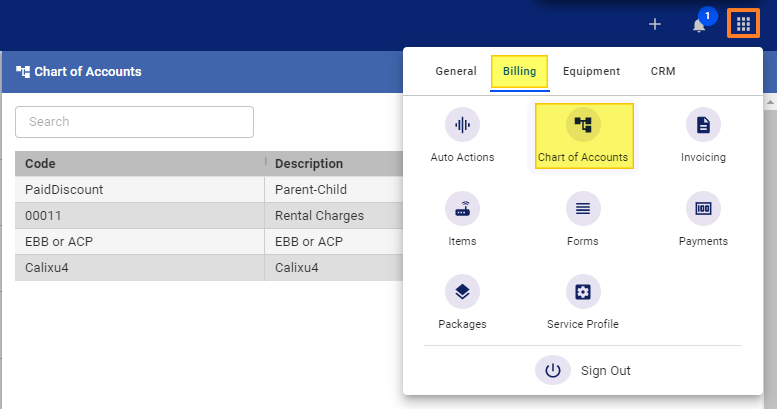 The Chart of Accounts (COA) feature allows you to index and group Fees, as well as Equipment, Package, Service, and Custom charges in their respective accounts.
To create an account, go to Menu > Billing and select Chart of Accounts.
Click on the Add New Account.
In the Code section, add a custom code, usually a three-digit alpha-numeric character that describes the account or item – such as supplies expense, revenue, equipment, etc.
For the Account type, you may assign or designate a specific label (e.g., Rental Devices, etc.) or use the typical primary types – Assets, Liabilities, Equity, Expenses, and Revenue.
Add a Description
Click on the Add button when done.

Assign Items to Chart of Accounts
To assign items to their respective chart of accounts, go to the Menu > Billing > Items
Select a specific item from the available categories -Custom, Equipment, Fee, Service, or Package
Next, in the Item tab, go to the Account dropdown and select which account you want to assign the specific item. Do this for all items you want to add to a specific account type in the system.
Save your work when done.

Reports Available
Several reports can be used to review your items and Chart of Accounts.
If you go to the Menu > General tab > Reports
Go to the Billing Category
You may view the Income by Account and Item by Account reports.
For more information about this and all other features in VISP, reach out to your VISP Client Success Team today.