To manually transition from one package to another (Upgrade or Downgrade) here are the steps:
Go to your customer's profile. Go to the package card/section, and then click on the plus sign.
Select a package from the list.
Click on Add and Configure.
Now go to the list of Active Packages and Services and expand the package you want to upgrade. Go to the service, and click on the vertical ellipsis.
Hover over the Move option, and select the new package you want to transfer the settings and information stored in the current service. This includes IP and MAC addresses, network usernames and passwords.
Now go back to the main Package panel, and configure the start date for billing the package. Using this process, you can back-date package billing or bill customers ahead.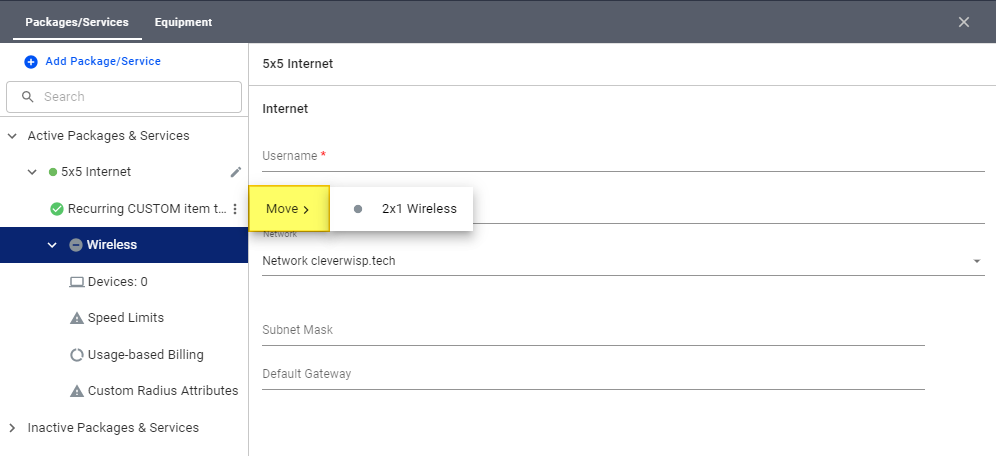 Concerning billing, If the customer has an existing package, you can either remove the old package and then bill only for the new package moving forward, with or without prorate. If the customer has an unused portion or days on their current package, the system may automatically reverse or issue a credit.
Once you're done picking the day you want to invoice or schedule the term start day for the new package, click on Invoice now. You will be brought back to the Packages & Invoices to view the charges applied to the customer.
If everything looks good, click on Save & Configure.
For more information about this and all other features in VISP, reach out to your VISP Client Success team, today.